Your source for nutrition data and technology! We strive to offer our clients worldwide the most cutting-edge nutrient analysis tools.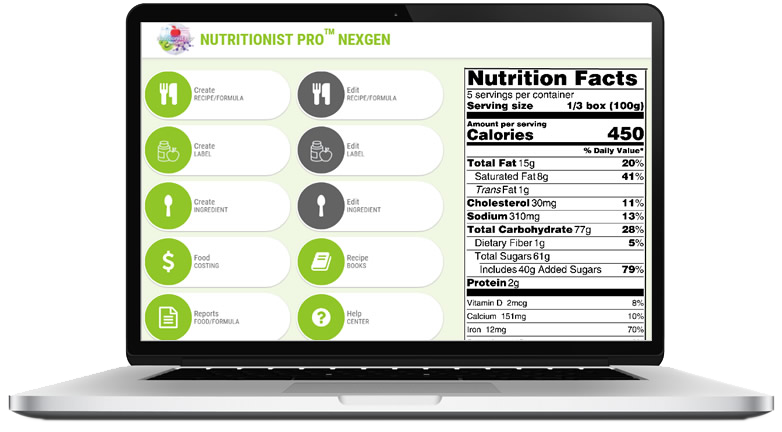 DIET ANALYSIS
Client/Patient nutrient assessment, 24 Hr Recall and FFQs, Cycle Menu for individuals and facilities, Analyze recipes and see nutrient breakdown.  Set Exercise Data and weight management options.
FOOD LABELS
Create food labels for many regions – USA, Canada, Europe/UK, & China/HK. Analyze Recipes, Menu Items, Formulas, see nutrient breakdown, using our large ingredient database.
NUTRIENT DATA
Large Extensive nutrient database containing foods, recipes, menus and more.  Create custom applications for mobile, web or software. Also track MyPlate patterns and Diabetic Exchanges for foods.
MENU ANALYSIS
Menu Labeling Compliance, create menus and see breakdown of nutrient data for food items.  Set your nutrient goals for comparison. Easy to use for simple or complex recipes. Add ingredients quickly.
Nutritionist Pro is used in over 100 countries




What Clients Say About Our Nutrition Products
We have used Nutritionist Pro for many research projects (cohort, randomized controlled trials, etc.) at the American University of Beirut Medical Center. Nutritionist Pro software allowed us to analyze micro-nutrient data from local and international databases. We have been much satisfied with the Axxya Team support. What distinguishes Axxya team is their timely provision of support, their regular follow ups and their flexibility. The team has been very responsive to calls and video calls and has assigned the appropriate provider to deliver assistance and guide data collection.
Jana Jabbour PhD, MPH, LD
American University of Beirut Medical Center
I am a new user of the Nutritionist Pro software. For the past six months the software have been helpful in analyzing new recipes and developing various regular, medical and religious diet menus; I don't have the nutrition label option to comment.
Most impressive of all was the customer support Axxya provided when I ran into unusual issues. Aditya was extremely knowledgeable and patient in walking me, and my IT, through to resolve our software needs. We recently renewed our licensing.
Helen Wong, MS, RDN Public Health
Orange County Sheriff-Coroner Department
After having tried several nutrition analysis companies, Axxya has delivered the quickest and most reliable nutrition information to us. I would also add that you guys have been extremely thorough with the information required from us to insure accuracy and you go the extra length to contact our vendors for info we are unable to supply.
Donna Munsterman
Prepared Foods Manager - Peapod
The Nutritionist Pro database met the needs of my graduate students that were assigned to evaluate their 3-day food records in the context of their vegetarian and ethnically diverse meal patterns.
Michelle Wien, DrPH, RD, CDE
Loma Linda University
Axxya's quality, professionalism, and support has been superlative. Axxya is an excellent partner—they understand both our business and technical needs, and work closely with us to help us be successful. Our customers are consistently impressed with the coverage and accuracy of the database. The Nutritionist Pro database is a key competitive differentiator for our product.
Donna Kelley
Technology Manager - Cengage Learning Inc.
As an organization that distributes over 51 million pounds of healthy food annually to those in need, we also strive to promote nutrition education. We provide meal programs and food pantries with a variety of recipes to prepare onsite or share with clients, using Nutritionist Pro has enabled us to conduct nutrition analysis and create Nutrition Facts Labels with ease. It is also very easy to create, analyze, and update multi-day menus for meal program service as well. Nutritionist Pro is helping The Greater Boston Food Bank to promote healthy lives and healthy communities in the work we do.
Kendra Bird, RD, LDN,
Director of Distribution Services & Nutrition - Greater Boston Food Bank
I have been a Nutritionist Pro user for many years and have been very satisfied. The program is easy to use, it has a large database of foods and the analysis contains many nutrients. Their customer service and technical support is great and they continue to provide excellent updates to the program.
Anne Boney, MEd, RD, LDN.
Duke University Medical Center